Become A Master Gardener

The 2017 Lee County Master Gardener training class is being planned. This once per year training class gets you started into the Master Gardener program. Click on the button below for more information.


---
Lee County Master Gardener Projects

The Lee County Master Gardeners lead and participate in many projects that help to promote gardening and serve as beautification to areas in Lee County. The projects provide a way to engage the public in gardening activities and to share current ideas. Please use the button below to explore and learn how the Lee County Master Gardeners contribute their time and love of gardening with the community.
---
Drought Conditions
​Drought conditions ​in northeast Mississippi have caused plants and trees to show drought stress. Watering plants deeply about 1 inch of water per week will help with drought symptoms until the autumn rains form. Long term (December - February) weather forecast shows that there is a moderate chance (55%) that the temperatures will be slightly above average and that rainfall amounts will be slightly lower than average during this period for northeast Mississippi. This may result in a persistence of the drought conditions.
​Map current as of 12/01/16
---
Celebrating 2016!

Lee County Master Gardeners gathered at the Verona Research and Extension facility to celebrate Christmas and the 2016-year. The Christmas celebration included wonderful food and a festive atmosphere. 2016 has seen many project efforts to which the Master Gardeners contributed time and resources. Photos from these initiatives may be seen on the project pages of this website. Photos below show some of the very creative table centerpieces from the Christmas dinner.

---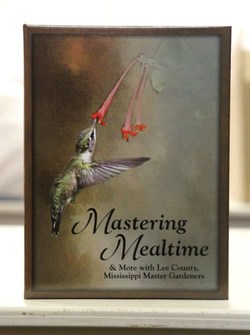 The Lee County Master Gardeners have written a wonderful cookbook, Mastering Mealtime & More, full of gardening information, as well as over 400 delicious, tried and true recipes. Mastering Mealtime, now in the second printing, is available from any Master Gardener or at the Lee County extension office on Cliff Gookin Blvd.
The price is $20.
---
---
---
LEE COUNTY MASTER GARDENER HELP CENTER
​662-620-8280 or 1-866-920-4678
---
​Location:
MSU Lee County Extension Office
5338 Cliff Gookin Blvd.; Tupelo, MS 38801

---