Yellownecked caterpillar above left; Variable oak leaf caterpillar above right

Notes on Current Pest Concerns
This year we are seeing more than normal activity from oak tree defoliating caterpillars, especially variable oak leaf caterpillar and yellownecked caterpillars, and infestations of second generation caterpillars of both species are active in many areas of the state now.
Variable oakleaf caterpillars are relatively smooth bodied with a few stout hairs on the bodies, and have dark-colored stripes down either side of their head capsule.
Yellownecked caterpillars are black with white to yellow longitudinal stripes and have long, light-colored hairs over the body. They also have a distinct yellow patch on the back of the "neck" just behind the head capsule. Younger caterpillars tend to be more red or yellow in color. These caterpillars also have a habit of resting with their bodies curled upward on each end.
Fall webworms are also present, as usual for this time of year, especially on pecan and persimmon, but these can be readily identified by the thick webbing they produce over infested branches.
Control options and considerations are similar for all three of these caterpillars, and are summarized in this recent article on Variable Oak Leaf Caterpillar:
http://extension.msstate.edu/newsletters/bugs-eye-view/2017/variable-oakleaf-caterpillar-vol-3-no-19
The bottom line is that it is usually not safe or practical to attempt to spray large trees, and large trees can tolerate and recover from heavy, or even complete, defoliation. However, it can be worthwhile to treat small, recently planted trees that can still be easily sprayed. Hand picking is even an option on small saplings. The younger a tree is, the more beneficial it is to protect it from severe defoliation.
Also, Fall armyworm activity is increasing, and hay producers and turf managers should be cautioned to remain alert for armyworms for the remainder of the season. A recent issue of the Bug's Eye View Newsletter provides information and links to control recommendations for fall armyworms in both hayfields and commercial turf:
http://extension.msstate.edu/newsletters/bugs-eye-view/2017/fall-armyworm-vol-3-no-15
Blake Layton, Ph.D., Extension Entomology Specialist
---
Articles and Information for Gardeners
See articles written by MSU Extension experts and Master Gardeners for interesting information for gardeners. These articles are updated regularly, so check back for new articles. Click on the button to the right to go to the articles page.
---
Ornamental plants in the botanical gardens at the Verona Research and Extension Center, south of Verona on Hwy145. The public is invited to view these gardens, many plants are labeled for identification.
---
Master Gardeners Tour Local Church Gardens
Lee County Master Gardeners recently toured the gardens of Tupelo First Presbyterian Church. The gardens are a long term development and are carefully planned and maintained for the enjoyment of the community. The public is invited to tour and enjoy the gardens.
---
Lee County Extension Office Grounds
| | |
| --- | --- |
| Master Gardeners are busy with landscape improvements to the Extension Office grounds. In partnership with Lee County some trees have been removed and fill dirt has been brought in to level the ground to reduce standing water after rains. Water lines were installed to supply water sources for the butterfly and triangle garden areas. The interior of the walking track will be seeded with centipede grass to provide lawn in the partially shaded area. The outside of the walking track will be mulched and planted with native plants. The existing tree canopy will be raised to allow more light into the area while still providing cooling shade in the summer. The walking track and picnic area is used by the Multi-Purpose facility for the Elderly and is open to the public. | |
---
---
Lee County Master Gardener Projects

The Lee County Master Gardeners lead and participate in many projects that help to promote gardening and serve as beautification to areas in Lee County. The projects provide a way to engage the public in gardening activities and to share current ideas and develop new ideas. Please use the Master Gardener Project button to explore and learn how the Lee County Master Gardeners contribute their time and love of gardening with the community.
---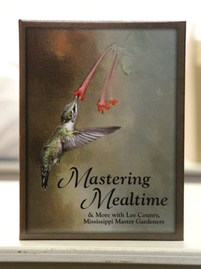 The Lee County Master Gardeners have written a wonderful cookbook, Mastering Mealtime & More, full of gardening information, as well as over 400 delicious, tried and true recipes. Mastering Mealtime, now in the second printing, is available from any Master Gardener or at the Lee County extension office on Cliff Gookin Blvd.
The price is $20.
---
---
Lee County Master Gardener Help Center
​662-620-8280 or 1-866-920-4678
Answers to gardening questions from insects to lawn and landscaping, trees and vegetable gardening.
---
​Location:
MSU Lee County Extension Office
5338 Cliff Gookin Blvd.; Tupelo, MS 38801

---