Day of Education for Master Gardeners
| | |
| --- | --- |
| Northeast Mississippi Master Gardener Day of Education is scheduled for March 1. The day of education will be at the Verona Research & Extension Center on Highway 145. There will be a full day of speakers and a lunch buffet catered by Mr. Charlie's. This is a great way for Master Gardeners to be able to get credit towards fulfilling their education hours. Registration is open to all Master Gardeners in the NE Mississippi region. The registration deadline is February 24. Please call 662 841 9000 to obtain a registration form. Cost is $12.50. | |
---
Lee County Master Gardener Projects

The Lee County Master Gardeners lead and participate in many projects that help to promote gardening and serve as beautification to areas in Lee County. The projects provide a way to engage the public in gardening activities and to share current ideas and develop new ideas. Please use the Master Gardener Project button to explore and learn how the Lee County Master Gardeners contribute their time and love of gardening with the community.
---
Preparing for 2017!

Lee County Master Gardeners are working on preparations for the new gardening year, even if the cold weather is still to come. With the help of our greenhouse, Master Gardeners are germinating seeds, growing and propagating plants which will form the stock for the spring plant sale in April. It is a big effort that makes the winter months pass quickly in anticipation of spring.
---
Lee County Master Gardener Plant Sale - April 22
---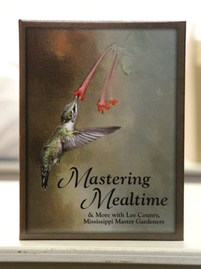 The Lee County Master Gardeners have written a wonderful cookbook, Mastering Mealtime & More, full of gardening information, as well as over 400 delicious, tried and true recipes. Mastering Mealtime, now in the second printing, is available from any Master Gardener or at the Lee County extension office on Cliff Gookin Blvd.
The price is $20.
---
---
Lee County Master Gardener Help Center
​662-620-8280 or 1-866-920-4678
Answers to gardening questions from insects to lawn and landscaping, trees and vegetable gardening.
---
​Location:
MSU Lee County Extension Office
5338 Cliff Gookin Blvd.; Tupelo, MS 38801

---