---
Master Gardeners are Growing
​
Lee County Master Gardeners have been preparing for the spring season for the past 4 to 5 months. Using the Master Gardener greenhouse, members have been busy growing and nurturing plants that will be offered for the Spring Plant Sale. Plants are growing in the Master Gardener greenhouse and more are being produced each week. Plants are nurtured and prepared to be ready for spring planting and growing. Some of these plants may find their way into your home garden in April. We are excited to see what will be the result of the work that Lee County Master Gardeners are investing into these plants.

The Lee County Master Gardener plant sale will be April 21, 2018, 8am - Noon.
After Sale - April 23 & 24, 9am - 2pm
​
Click on the button below for more information on the plants and plant sale.
---
Celebration of Gardens
The Celebration of Gardens will take place at the Community Garden park on South Spring Street in Tupelo, south of the Farmers' Depot on May 12 from 9:00-12:00.
The Community Gardens are developed and maintained with demonstration areas for gardening.
The Agenda for Celebration or Gardens will include the following presentations by Master Gardeners: 9:00-9:20 - Starting seeds and cuttings, Mrs. Donna Tucker; 9:25-9:45 - Grafting tomatoes, Mr. Cameron Tate; 9:50-10:10 - How to build a Fairy Garden, Mrs. Betty Miller; 10:15-10:35 - Pollinator Plants, Mrs. Mary Nell Gardner; 10:40-11:00 - Composting, Mr. Dale Smith; 11:05-11:25 - Bee keeping, Mr. Roger Hussey; 11:10-11:30 - Herbs, Mr. Jere Kirkland; 11:35-11:55 - Raised Beds, Ms. Sandy Witt.
In addition, Butterfly Garden in a box will be for sale for $25.00 and Vegetable Plant Boxes will be for sale for $25.00.
There will be a Monarch Butterfly release for all kids.
This is a very popular gardening presentation and an enjoyable day in the park for all ages. Please make plans to attend. ​
---
Lee County Master Gardeners Contribution to MSU Extension Service is a Record for 2017
Mississippi Master Gardeners reported 71,215.8 volunteer hours for 2017, which is an increase of 6.2% over 2016. It has been record years for both 2016 and 2017. This equates to a statewide volunteer effort equivalent to 34 full time employees for MSU Extension.
Lee County is the largest active Master Gardener group in the state with 72 members in 2017.
Lee County reported approximately 11.4% of the volunteer hours statewide. They reported 35% of the hours in the Northeast Region. The Northeast Region reported 35% of the total hours of the State.
Lee County ranked 1st in the state in volunteer hours for 2017
Lee County ranked 4th in the state in educational hours for 2017
Lee County Master Gardener volunteer activity and value to MSU Extension Service:
7,824 Contacts
45,669 Miles driven-$29,684.85
1117.7 Educational hours-$26,333.01
6901.6 Volunteer hours-$162,603.11
8019.4 Total hours-$188,936.12
The activity from Lee County Master Gardeners equates to 4 full time employees for MSU. This was an increase of 21% over 2016.
---
Articles and Information for Gardeners
See articles written by MSU Extension experts and Master Gardeners for interesting information for gardeners. These articles are updated regularly, so check back for new articles. Click on the button to the right to go to the articles page.
---
Verona Research and Extension Center

There are many ornamental plants in the botanical gardens including Mississippi Medallion plants at the Verona Research and Extension Center, south of Verona on Hwy145. Many plants are labeled for identification. The public is invited to view these gardens to see plants they may want to include in their landscape.
---
Lee County Master Gardener Projects

The Lee County Master Gardeners lead and participate in many projects that help to promote gardening and serve as beautification to areas in Lee County. The projects provide a way to engage the public in gardening activities and to share current ideas and develop new ideas. Please use the Master Gardener Project button to explore and learn how the Lee County Master Gardeners contribute their time and love of gardening with the community.
---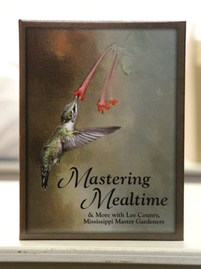 The Lee County Master Gardeners have written a wonderful cookbook, Mastering Mealtime & More, full of gardening information, as well as over 400 delicious, tried and true recipes. Mastering Mealtime, now in the second printing, is available from any Master Gardener or at the Lee County extension office on Cliff Gookin Blvd.
The price is $20.
---
---
Lee County Master Gardener Help Center
​662-620-8280 or 1-866-920-4678
Answers to gardening questions from insects to lawn and landscaping, trees and vegetable gardening.
---
​Location:
MSU Lee County Extension Office
5338 Cliff Gookin Blvd.; Tupelo, MS 38801

---