Master Gardener Training Class Set to Start in February

​Lee County Master Gardeners and Mississippi State University Extension Service will welcome a new training class for Master Gardeners starting in February. The training consists of a 40 hour course on a broad range of topics related to home gardening and horticulture. Classes are taught by trained Master Gardeners, MSU Extension Professors and MSU Extension county experts. The training is required to become a Master Gardener and is offered once per year. Please see the website page on joining Master Gardeners and the 2018 training course for more information. Click on the button on the right to view more details.
---
Start of the New Year
When most gardeners are starting to get their plants and gardens ready for the Winter, Lee County Master Gardeners are starting to prepare for the coming growing season. The start of Autumn means the start of the preparation for the Spring plant sale. During the next few months, thousands of plants will get their start in the greenhouse. We are excited to see what will be the result of the work and nurturing that will keep us occupied through the Winter months. The Lee County Master Gardener plant sale will be April 21, 2018.
---
Lee County Master Gardeners Contribution to MSU Extension Service is a Record for 2017
Mississippi Master Gardeners reported 71,215.8 volunteer hours for 2017, which is an increase of 6.2% over 2016. It has been record years for both 2016 and 2017. This equates to a statewide volunteer effort equivalent to 34 full time employees for MSU Extension.
Lee County is the largest active Master Gardener group in the state with 72 members in 2017.
Lee County reported approximately 11.4% of the volunteer hours statewide. They reported 35% of the hours in the Northeast Region. The Northeast Region reported 35% of the total hours of the State.
Lee County ranked 1st in the state in volunteer hours for 2017
Lee County ranked 4th in the state in educational hours for 2017
Lee County Master Gardener volunteer activity and value to MSU Extension Service:
7,824 Contacts
45,669 Miles driven-$29,684.85
1117.7 Educational hours-$26,333.01
6901.6 Volunteer hours-$162,603.11
8019.4 Total hours-$188,936.12
The activity from Lee County Master Gardeners equates to 4 full time employees for MSU. This was an increase of 21% over 2016.
---
Articles and Information for Gardeners
See articles written by MSU Extension experts and Master Gardeners for interesting information for gardeners. These articles are updated regularly, so check back for new articles. Click on the button to the right to go to the articles page.
---
Verona Research and Extension Center

There are many ornamental plants in the botanical gardens including Mississippi Medallion plants at the Verona Research and Extension Center, south of Verona on Hwy145. Many plants are labeled for identification. The public is invited to view these gardens to see plants they may want to include in their landscape.
---
Lee County Master Gardener Projects

The Lee County Master Gardeners lead and participate in many projects that help to promote gardening and serve as beautification to areas in Lee County. The projects provide a way to engage the public in gardening activities and to share current ideas and develop new ideas. Please use the Master Gardener Project button to explore and learn how the Lee County Master Gardeners contribute their time and love of gardening with the community.
---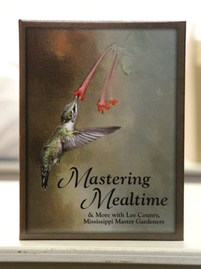 The Lee County Master Gardeners have written a wonderful cookbook, Mastering Mealtime & More, full of gardening information, as well as over 400 delicious, tried and true recipes. Mastering Mealtime, now in the second printing, is available from any Master Gardener or at the Lee County extension office on Cliff Gookin Blvd.
The price is $20.
---
---
Lee County Master Gardener Help Center
​662-620-8280 or 1-866-920-4678
Answers to gardening questions from insects to lawn and landscaping, trees and vegetable gardening.
---
​Location:
MSU Lee County Extension Office
5338 Cliff Gookin Blvd.; Tupelo, MS 38801

---