Master Gardeners Celebrate Summer
Lee County Master Gardeners gathered to celebrate the summer with their annual picnic. The picnic was held where three Master Gardeners live side-by-side allowing the opportunity to enjoy the gardening efforts and vision of all three.
---
Lee County Extension Office Grounds
| | |
| --- | --- |
| Master Gardeners are busy with landscape improvements to the Extension Office grounds. In partnership with Lee County some trees have been removed and fill dirt has been brought in to level the ground to reduce standing water after rains. Water lines were installed to supply water sources for the butterfly and triangle garden areas. The interior of the walking track will be seeded with centipede grass to provide lawn in the partially shaded area. The outside of the walking track will be mulched and planted with native plants. The existing tree canopy will be raised to allow more light into the area while still providing cooling shade in the summer. The walking track and picnic area is used by the Multi-Purpose facility for the Elderly and is open to the public. | |
---
Celebration of Gardens

​Lee County Master Gardeners celebrated Spring at the Community Garden park on South Spring Street in Tupelo. In conjunction with the opening of the Tupelo Farmer's Market, Master Gardeners presented demonstrations on butterfly gardens, fairy gardens, honey production, propagation of plants and other topics. Please click on the button to see more photos of the Celebration.
---
---
Lee County Master Gardener Projects

The Lee County Master Gardeners lead and participate in many projects that help to promote gardening and serve as beautification to areas in Lee County. The projects provide a way to engage the public in gardening activities and to share current ideas and develop new ideas. Please use the Master Gardener Project button to explore and learn how the Lee County Master Gardeners contribute their time and love of gardening with the community.
---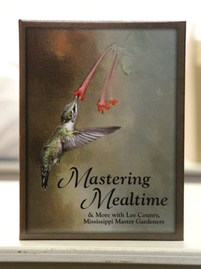 The Lee County Master Gardeners have written a wonderful cookbook, Mastering Mealtime & More, full of gardening information, as well as over 400 delicious, tried and true recipes. Mastering Mealtime, now in the second printing, is available from any Master Gardener or at the Lee County extension office on Cliff Gookin Blvd.
The price is $20.
---
---
Lee County Master Gardener Help Center
​662-620-8280 or 1-866-920-4678
Answers to gardening questions from insects to lawn and landscaping, trees and vegetable gardening.
---
​Location:
MSU Lee County Extension Office
5338 Cliff Gookin Blvd.; Tupelo, MS 38801

---